i saw a set of P Rails going really cheap at the local Duncan dealer. and since i was thinking of spec'ing P-Rails in my 2nd Schroeder, i thought, what the heck, why not try 'em first!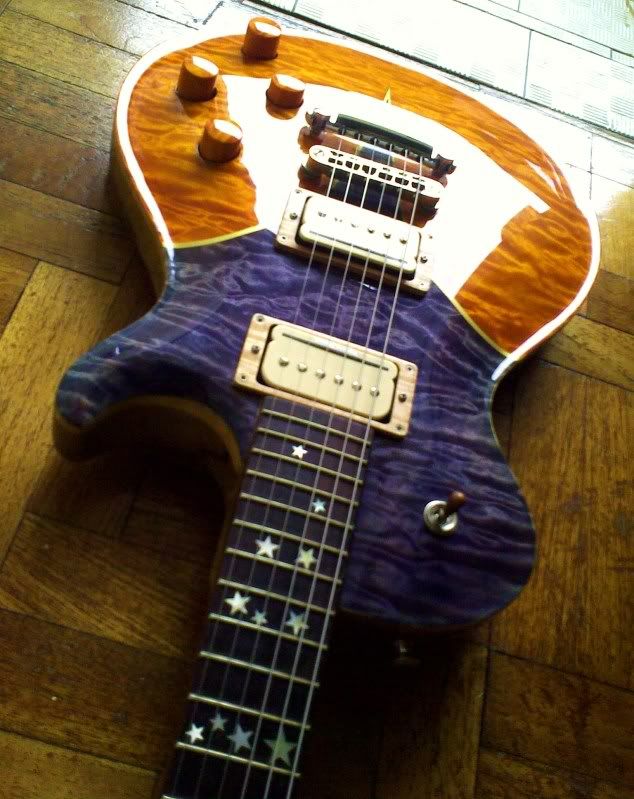 got them wired them up with 2 volumes, and 2 tones with 2 push-pull tone pots, 0.022pf auricaps
each of these consists of an alnico single coil P90 AND an alnico blade single coil pickup, and they can be used individually or wired in series or parallel.
these are the sounds i can get*:
1. Fat humbucker neck (think Money For Nothing, Sweet Child Of Mine)
2. 2 Fat humbuckers combined
3. Fat humbucker bridge (i can get the Santana lead sound!)
4. vintage PAF neck (articulate, dynamic, sweet)
5. 2 vintage PAFs combined
6. vintage PAF bridge (classic rock, bites!)
7. P90 neck (smooth, fat, squishes like a P90 should)
8. 2 P90s combined
9. P90 bridge (punchy, screaming, ballsy ROCK)
10. Strat neck (articulate, squeals when you dig in like a real single coil, otherwise very similar sounding the the joe barden neck in my strat)
11. Strat 2nd position (albeit a little thinner, but VERY quacky, think PRS 5 way rotary 2nd position)
12. Strat bridge (twangy, punchy)
*your mileage may vary dependant on your guitar. mine is a 24.75' scale maple top, korina bodied singlecut with a BRW board.
guys, i heartily recommend these as an option when ordering your Schroeder! in fact there are already 2 (or more) Schroeders that were built with them..
looks like #37 will be added to their ranks..